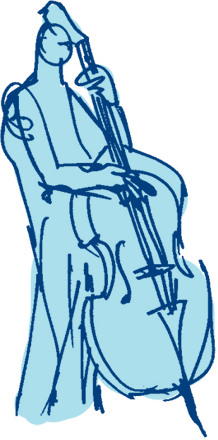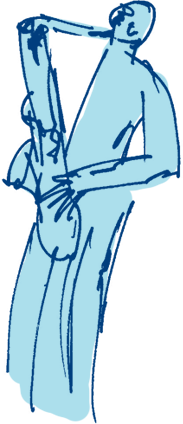 What do we do?
More-than-jazz! Promotions provides quality, live music for
corporate entertainment events and discerning private clients.
What is our philosophy?
Our aim is to facilitate live, musical entertainment of a quality and standard with reflects our customers' values of excellence. Our soloists, bands and ensembles effectively endorse and commend you, our customer to your clients and business associates.
Who is behind Mtj! Promotions?
Founded and managed by Steve Plumb, a professional musician with a business background, our agency provides an individual, personalised service which will guarantee to help and advise you to make the right musical choice, whatever the event, whatever the setting.
Are the performers any good?
Definitely! All the personnel on our books are freelance, professional musicians and singers, working in a wide range of musical disciplines.
The unmistakable sound of Jazz
Our quartets and trios are ensembles which provide sophisticated "Dinner Jazz" suitable for the most elegant of occasions. Popularly
used for:
Client Receptions
Cocktail Parties
Publishers' Book Launches
Private Art Viewings
Private Drinks Parties
Pre/After Dinner music
Also available are Solo Jazz Guitarists, Pianists and nine or seventeen-piece Big Bands.
Classically inspired Soloists and Ensembles
Whether it's the genteel charm of a string quartet or the evocative sounds of a classical guitarist, choose from our extensive list of ensembles, each of which are firmly rooted in the classical tradition.
String Quartets
Wind Quintets
Brass Quintets
Saxophone Quartets
Opera Soloists
Chamber Groups
Classical Guitarists
Harpsichords
Contact...
Steve Plumb
office@morethanjazz.com